As a trusted and well-respected concrete contractor in middle Tennessee we want to be as honest with our customers as possible about what you can expect from your concrete project. Our goal is to provide our customers with a high-quality concrete patio, driveway, or slab and leave them happy for years to come.
A common issue that arises in residential concrete construction is the discussion on landscaping at the end of our projects. Concrete construction is a messy industry that involves working in the dirt with heavy equipment and pouring concrete on a daily basis. We always do our best to keep your yard as clean as we found it and save you as much money as possible, but we are not always perfect. Due to these circumstances, we offer two bid packages for our projects
Package #1 – Concrete Work Only
Package #2 – Concrete & Landscaping Work
Package #1 – Concrete Work Only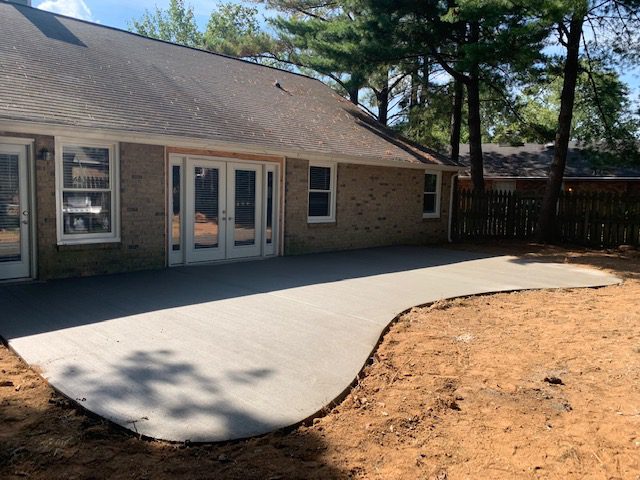 As you can see, all the grass around the perimeter of the slab is now dirt from the construction equipment. Seed and straw need to be laid around the perimeter of the slab. This package is most often applied on new construction projects for builders. Now let's take a look at Package #2, which is the most common choice among homeowners.
Package #2 – Concrete & Landscaping
(most common among homeowners)
The picture on top is after we compacted the dirt and laid seed/straw on the last day of the project. The picture below is two weeks after when grass began to grow again